1st stage of the Italian Jet Ski Championship in the city of Caorle
AT THE SAN FRANCESCO VILLAGE ON 27, 28 AND 29 MAY
The extraordinary event involving the performance of jet skis is back on the sea of the San Francesco Village!
Are you participating as an athlete in this event?

Programme of the event
Will you be on holiday at the Village on 27, 28 and 29 May? You will also be a protagonist of a unique event of national importance!
SATURDAY 28 MAY
From 9 Jet Ski 1
From 20:30 Evening aperitif FIM Superjet Cup
SUNDAY 29 MAY
From 9 Jet Ski 2
Followed by the award ceremony for the winners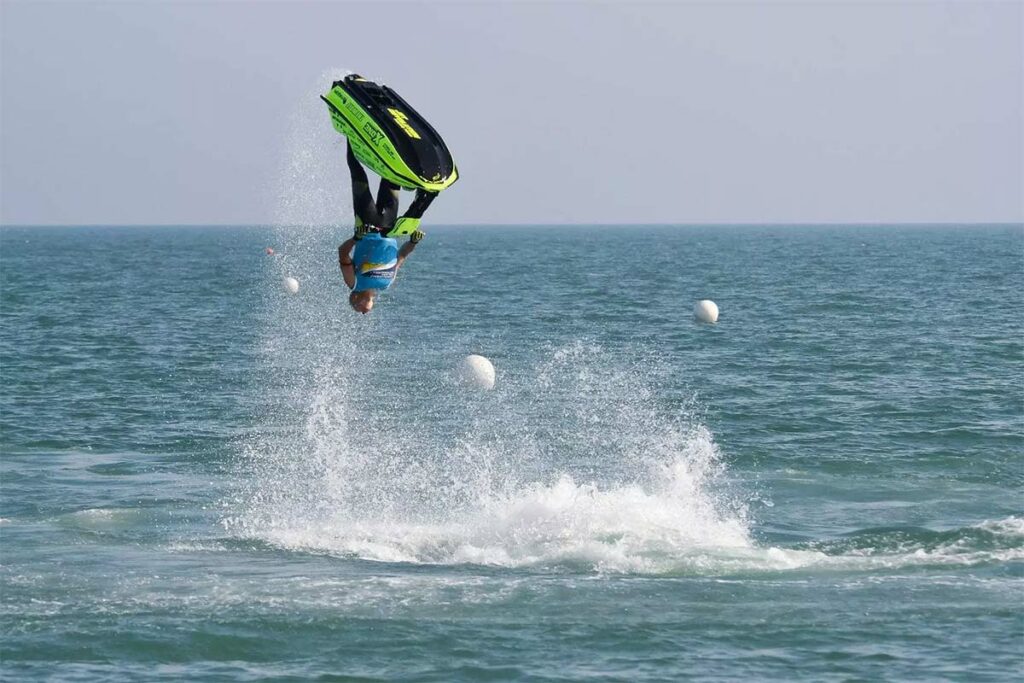 Regulations
Please, note that the booked accommodations are only provided with a parking space. Any different or additional vehicles (jet skis/trailers/vans/quads) MUST be positioned inside the Paddock area set up by Marina4.
Movement within the village is only permitted by car if you wish to reach your accommodation unit or reserved pitch, and any further movement within the village is allowed EXCLUSIVELY on foot or by bicycle/ scooter.
THE USE OF QUADS OR MOTORBIKES INSIDE THE VILLAGE IS FORBIDDEN AND UNDER STRICT SUPERVISION OF THE VILLAGE STAFF.
Categories of participants
Free-Style Runabout F1 SKI F1 Runabout F2 Runabout F4 Runabout F4 NOVICE Run. F4 Femminile SKI F2 Ski Open Runabout F1 Veterans
Ski F1 Veterans Spark Giovanile 12-14 Spark Giovanile 15-18 F1 Endurance Run. F2 Endur. AMA Run SKI F3 Runabout F4 Veteran Ski Giovanile 12-14 Ski Giovanile 15-18 Ski Superjet
Dedicated offer
If you are staying during the event, you will get 10% discount on the total amount. Bookable from 23 to 31 May.
* Please, note that jet skis, possible trailers and quads must be positioned exclusively in the Paddock area.
CAMPING PITCH
Accommodation with camper van or tent near the Paddock area.
€ 23 pitch
€ 12 for each person (children up to 9 years free of charge)
OPTIONAL
Breakfast € 9,00
Half Board € 25,00
Single Lunch € 15,00
Daily entry to the event € 7 per person
WITH ADDITIONAL EXTRA PADDOCK PARKING SPACE
€ 23 parking space only for trolleys, vans, other equipment (no accommodation)