Prices and availability
Before choosing dates,
check the booking terms and conditions
regarding the minimum stay 2024
Period
Min number of nights
APARTMENT & VILLINO, MOBILE HOMES and SKY ROOM
from 25/04 to 18/05
2 nights
from 18/05 to 15/06
3 nights
from 15/06 to 27/07
5 nights
from 27/07 to 31/08
7 nights*
from 31/08 to 14/09
5 nights
from 14/09 to 07/10
2 nights
MOBILE HOME PRESTIGE, MOBILE HOME VENICE SEA VIEW, MOBILE HOME PET - PRENOTABILE SOLO CON ANIMALI and MOBILE HOME SUPERIOR BEACH
from 29/06/24 to 07/09/24
7 nights*
Cancellation Policy
Booking and cancellation conditions
It is necessary to book a rental unit or pitch in advance. Reservations can be made via our website, email or phone. In order to confirm a reservation, a deposit of 30% of the total amount is required in advance; this includes any administrative fees. Upon receipt of the deposit, guests will receive a booking confirmation via email with the corresponding conditions of their stay.
Arrival behind schedules must be announced to Villaggio San Francesco as soon as possible and however, as for the anticipated departures, the booked period must be fully paid.
Booking conditions
The Management reserves the right to allocate and change the number of the accommodation or the pitch according to needs.
The possibility of booking a specific number of accommodation unit or pitch is available at an extra charge.
The cost of such a service is non-refundable and is set at:
€ 100 for stays with arrival between the opening date and 30 June and 01 September till closing date,
€ 200 for stays with arrival between 1 July and 31 August.
After 31.10.23 the preferences will be reported in the system but they are not fixed and the Management reserves the right to assign and change the accommodation or pitch number as needed.
Minimum stay for 2024
The terms of reservation with the minimum stay for the 2024 will be as follows:
from 25/04 to 18/05: 2 nights
from 18/05 to 15/06: 3 nights
from 15/06 to 27/07: 5 nights
from 27/07 to 31/08: 7 nights (from Saturday till Saturday or some accommodation units from Sunday till Sunday)
from 31/08 to 14/09: 5 nights
from 14/09 to 07/10: 2 nights
*Mobilhome Prestige, Mobilhome Venice Beach, Mobilhome Pet e Mobilhome Beach Superior – Saturday till Saturday from 29/06/24 to 09/09/24.
*in high season bookings are possible also for a minimum stay of 5 nights with a supplement of 50€
*Sky Room,Ap. Midi and Ap. Mini can also be booked for just 1 night but with a price increased by 30% + breakfast.
In the event that the cancellation is not received within the time limit, the entire deposit will be considered as a penalty; therefore, no reimbursement can be claimed.
The date of the postmark or the date of receipt of the fax or e-mail shall in all cases be deemed to be the date of receipt..
Accommodation assignment
The Management reserves the right to assign the house number of the accommodation unit at its discretion.
It is possible to indicate a preference, which can be confirmed subject to availability and is not guaranteed.
The house number of the accommodation unit can be chosen as long as the arrival coincides with the conditions for that unit type (e.g. Saturday-Saturday or Sunday-Sunday).
It is only possible to book the house number of an accommodation unit for bookings made by 31 October 2023 and under the following conditions:
minimum stay

30 nights for pitches
14 nights for accommodation units (Apartments, Mobile Home, Sky Room)

the price for the house number booking is

€100 during low season
€200 during high season (between 1 July and 30 August).
Application fees will not be deducted from the final bill.
For bookings made after 31 October 2023, the house number cannot be booked.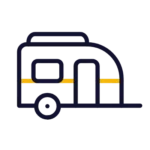 Pitch booking with ACSI or ADAC
If you book at a reduced price with an ACSI or ADAC card, you will be able to choose from our popular Belvedere pitches. It is not possible to choose the pitch number.
Cancellation Policy 2024
The cancellation of a reservation shall be submitted by email, fax or registered letter. For stays with arrival date between:
Between opening and 05/07: within 7 days prior to arrival
between 06/07/24 and 24/08/24: within 10 days prior to arrival
from 24/08/24 till 07/10/24: within 7 days prior to arrival
If the cancellation of the reservation is completed within the above-mentioned time limits, the entire amount of the deposit will be reimbursed, with the exception of the administrative fees.
Guests who have paid the deposit via PayPal will be reimbursed the same amount minus the commission.
Free cancellation up to one day before arrival
Cancellation is free of charge up to the day before arrival only by decision of the management and for important reasons.
Terms of payment
The stay must be fully paid within the first 3 days of arrival.
Accepted payment methods are:
cash up to a maximum of € 1999,95
Visa and MasterCard credit cards
Debit cards.
Online payment with instalment payments (Stripe)
When booking, we require a payment of 30% of the total amount of the stay. The remaining amount will be divided into 2 monthly instalments, whereby the last instalment is due 7 days before your arrival.
The booking is NOT REFUNDABLE.
This service is provided for stays of at least 7 nights, for bookings made at least 40 days before the selected arrival date. This service is not available for bookings of pitches or beach service, and for bookings made until 27/08.
This service is subject to an additional booking fee of € 45.00.
Cheques and American Express are not accepted.
Tourist tax
The price indicated in the booking confirmation does not include the tourist tax.
Tourist tax amounts to
€ 1.50 per person per day up to 7 consecutive nights (village)
€ 1.30 per person per day up to 7 consecutive nights (residence).
Children between 0-11 years old are exempt from paying the tourist tax.
Any applicable administrative fee is not refundable.
In the case VAT rates change, the prices may be subject to a slight variation.
Beach service terms and conditions
Beach bookings are non-refundable. The beach reservation is confirmed once the payment has been successfully made.
Official Rules of the San Francesco Village
House rules and more information on rental terms are available on the following link: San Francesco house rules.