Prices and availability
Before choosing dates,
check the booking terms and conditions
regarding the minimum stay 2023.
Period
Min number of nights
APARTMENT & VILLINO, MOBILE HOMES and SKY ROOM
from 17/06 to 05/08
5 nights
from 05/08 to 26/08
7 nights*
from 26/08 to 09/09
5 nights
from 09/09 to 02/10
2 nights
MINIMUM STAY FOR THE 2024
from 25/04 to 18/05
2 nights
from 18/05 to 15/06
3 nights
from 15/06 to 27/07
5 nights
from 27/07 to 31/08
7 nights
from 31/08 to 14/09
5 nights
from 14/09 to 07/10
2 nights
MOBILE HOME PRESTIGE, MOBILE HOME VENICE SEA VIEW, MOBILE HOME PET - PRENOTABILE SOLO CON ANIMALI and MOBILE HOME SUPERIOR BEACH
from 01/07 to 09/09
7 nights*
from 29/06/24 to 07/09/24
7 nights*
Aquileia and Grado via Marano Lagunare
An itinerary full of interesting places
Aquileia and Grado, two cities that have always been a priceless heritage of Italian history and culture. An itinerary full of places of interest.
WORLD HERITAGE SITE
Aquileia
Aquileia was one of the most important cities of the Roman Empire and is now a UNESCO World Heritage Site.
To visit it, we recommend you equip yourself with a booklet among the many that can be found on site, but a simple walk through the ruins of the ancient city will take you back more than two millennia in history.
The routes the guides recommend are: the great mausoleum, the decumanus of Aratria Galla, the Roman forum, the Basilica and the Domus of Tito Macro.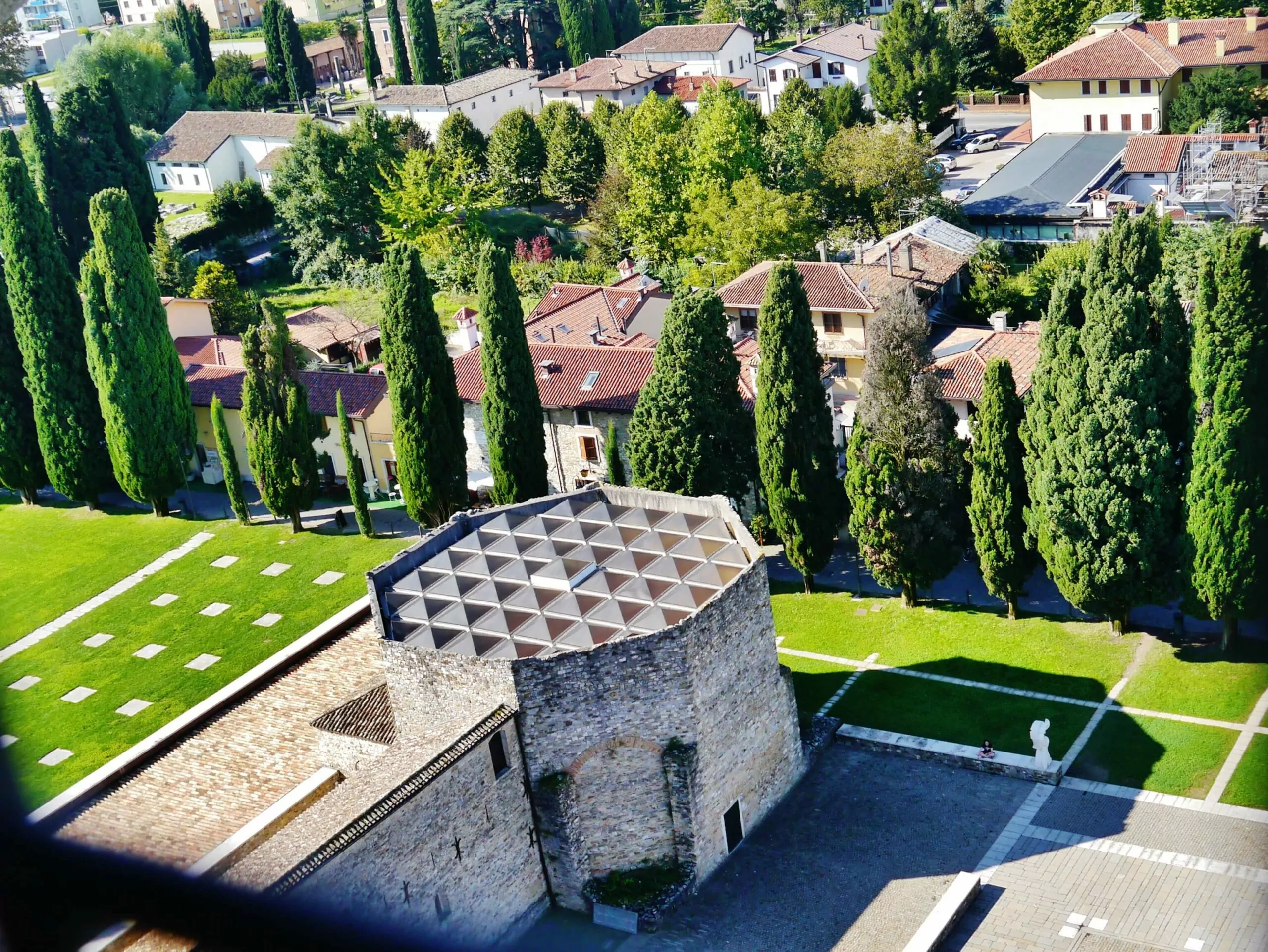 Cattedrale Santa Maria Assunta
ANCIENT LAGOON SETTLEMENT
Grado
You can leave Aquileia and continue towards Grado, which you reach after 11 kilometres.
The town, together with Caorle, was one of the oldest lagoon settlements; today it is one of the best-known tourist and seaside towns in the transalpine countries.
In addition to the sea and the beach, Grado is rich in historical sites such as the early Christian Basilica of Sant'Eufemia and the Basilica of Santa Maria delle Grazie founded in the mid-5th century. Stopping at one of the many bars facing the inner harbour, while enjoying a glass of wine, remains an unforgettable memory of your holiday.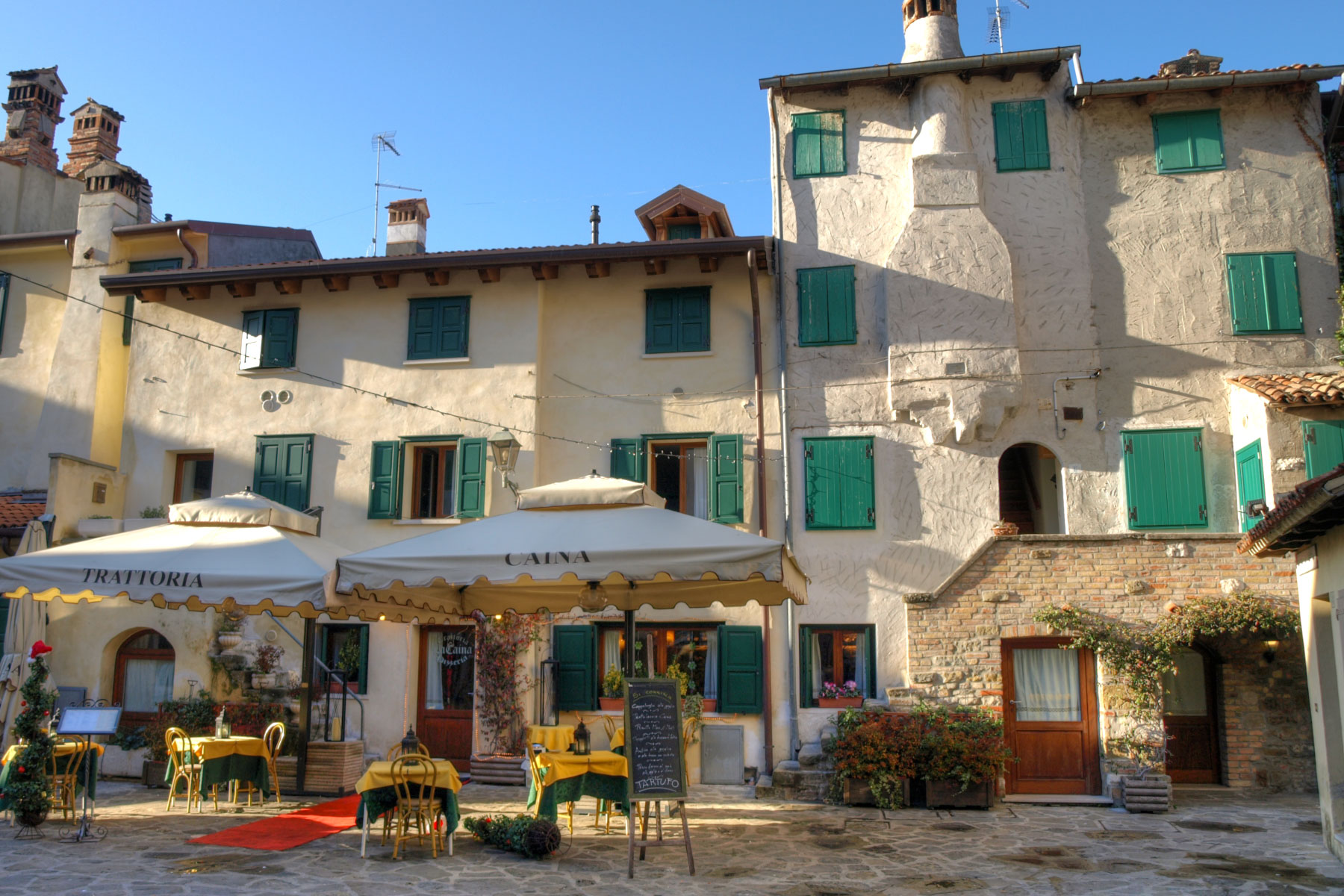 Gradovecchia
SMALL MUNICIPALITY OF
Marano Lagunare
Once you have finished visiting the city, you can leave Palmanova by Porta Udine, taking the road that leads to the homonymous city of Friuli. Take Strada Regionale n. 56 and in 20 kilometres you will reach Udine.
The shortest and quickest way would be to use the parallel motorway, but admiring the beauty of the Friulian countryside, referred to by its inhabitants as "la bassa", is much more significant for getting to know this region.
We pass through small hamlets that seem to have remained as they were in the past and enter the city by passing a wide overpass above the railway and then continue along Viale Ungheria to find parking in Piazza 1° Maggio, the point, in our opinion, that is most convenient and closest to the centre.
If you park on this square, you will notice the massive city castle above you.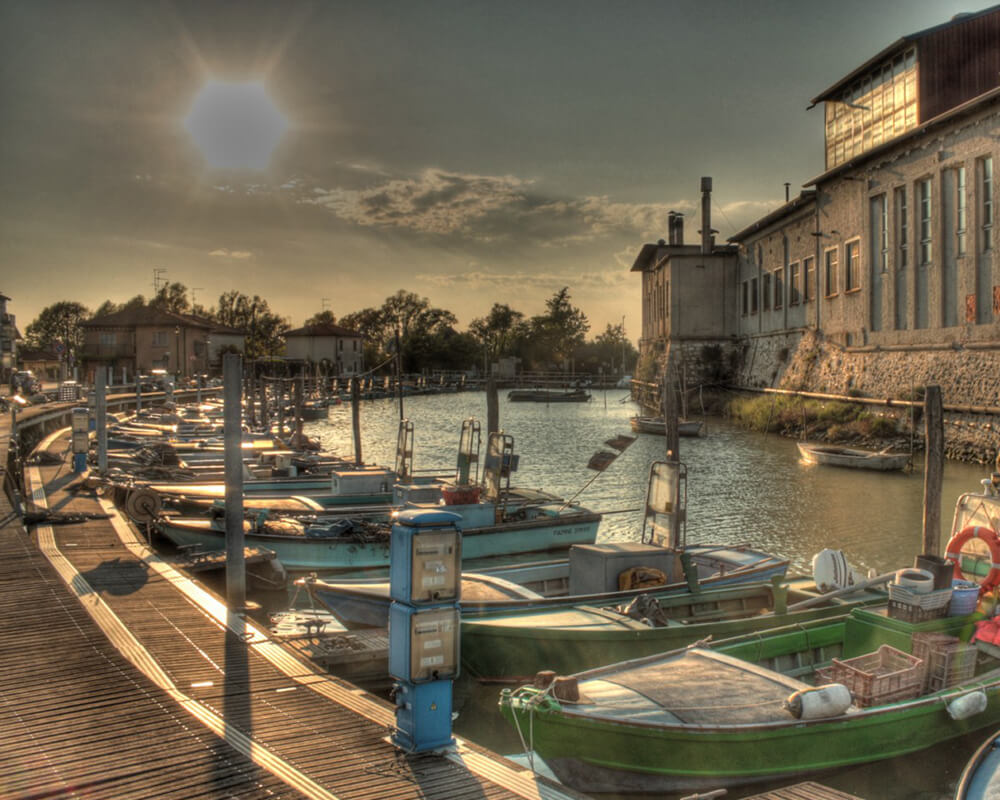 Marano Lagunare
How to get to Aquileia and Grado from Caorle
To get to Aquileia and Grado, we recommend the use of a car, which is very convenient and gives you the possibility, along the way, to detour to places that might interest you.
You leave Caorle by taking the Strada Provinciale (Provincial Road) n. 42 towards Latisana, which you reach after about 30 kilometres.
Before entering this beautiful Friulian town, you cross the bridge over the Tagliamento River that separates the Veneto Region from Friuli.
You pass Latisana on Strada Statale n. 14 towards Trieste.
After about 12 kilometres and passing the town of Muzzana del Turgnano, you arrive at a roundabout.
Our itinerary would require us to continue straight ahead, but if you have some time to spare, an exit to the right will take you to Marano Lagunare. It is only 8 kilometres, but you will find yourself in a beautiful, ancient town with Venetian influences.
OFFERS AND PRICES 2023 OF THE SAN FRANCESCO VILLAGE IN CAORLE
It is always the right time to book a holiday
With our holiday centre offers, your stay in Caorle
will be even more pleasant.